Restaurants & Bars
The commitment of the Hotel Tropical Princess Beach Resort & Spa is to delight our customers with excellent all inclusive service and unique dining experiences in an incomparable environment. We provide the best restaurants and bars in Punta Cana for our most discerning customers.
We have 5 restaurants (including a buffet, a Dominican restaurant, a Rodizzio Argentine style restaurant and a creperie), as well as 3 bars and a snack bar on the beach where you can enjoy a tropical drink with stunning views of the Caribbean. All of our restaurants are adapted for families, with child seats available for the little ones. Due to the high demand for our restaurants, no reservations are allowed.
Our restaurants are all located in the same area, but guests can use our internal transport system for a better and faster transfer.
The following restaurants are not included:
La Cava, with exquisite Gourmet cuisine. $35 USD (requires booking at least one day in advance)
El Pescador, with a careful selection of delicious fish dishes. $35 USD (requires booking at least one day in advance)
* The dress code in each restaurant must be respected. Swimsuits are not allowed in the buffet restaurant.
* Restaurants La Cava and El Pescador belong to the Hotel Caribe Princess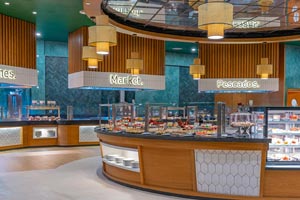 HigÜero
All Inclusive Buffet Restaurant
Type of Cuisine: International Buffet
Reservation: Not required
Non-Smoking and Smoking Areas
Opening Times:
Breakfast: 6:00 am. a 10:30 pm.
Lunch: 12:30 pm. a 3:00 pm.
Dinner: 6:30 pm. a 10:30 pm.
Dress Code: During day, Barefoot, swimming suits and wet clothes are not allowed. At night, gentlemen should wear shoes or sandals, sleeved (collared) shirts, long pants or dress bermudas (the swimming shorts are not allowed to any guest).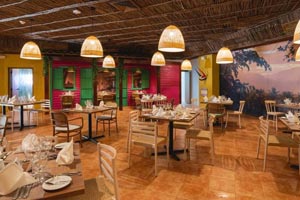 El PilÓn
All Inclusive A la Carte Restaurant
Type of Cuisine: Dominican
Reservation: Required
Non-Smoking
A/C
Opening Times: 6:00 pm. a 9:00 pm.
Dress Code: Casual Elegant (Long pants, sleeved shirts for gentleman)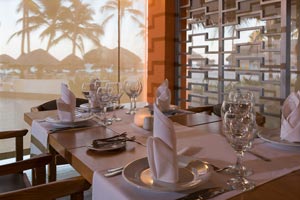 El Rodizzio
All Inclusive A la Carte Restaurant
Type of Cuisine: Brazilian
Reservation: Required
Non-Smoking
Opening Times: 6:30 pm. a 8:30 pm.
Dress Code: Casual Elegant (Long pants, sleeved shirts for gentleman)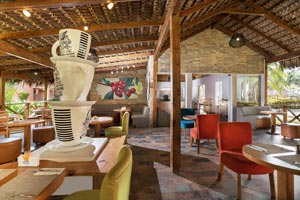 Le Creperie CafÉ
All Inclusive Snack Bar
Type of Cuisine: Crepes
Reservation: Required
Non-Smoking
Opening Times: 10:00 AM until 11:00 PM
Dress Code: Casual
La Matica
Snack Bar
Sandwiches, hamburgers, hot dogs, mixed salads, chips, selection of fruit.
Opening Times:11:00 h – 17:00 h - 23:00 h – 06:00 h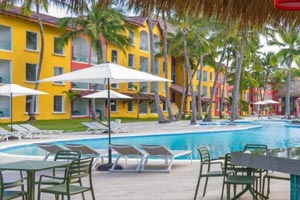 Bars
Bar La Canoa
Mamajuana Bar
Pool Bar Manati